Cowen Tenant Improvement has been renovating buildings for our clients
for 125  years
.
Cowen TI will partner with your team from the very start with our experienced construction managers to ensure you are satisfied throughout the entire project. Cowen TI prides themselves on the relationships we have made and
maintained with businesses throughout the State and are excited to continue to serve more businesses to come. Let us partner with you!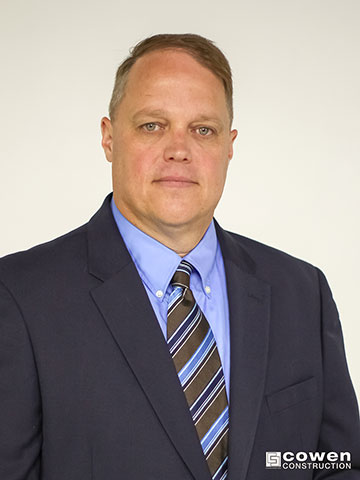 Ross Phippen
Vice President
Read Ross's Bio
Ross spent 17 years in facility management and built out spaces all over the US, Canada, and Europe. In 2005, Ross became Cowen Construction's own client, which then led to him being hired as head of the Tenant Improvement division within the company. His industry-leading, diverse experiences make Ross's leadership invaluable to Cowen Tenant Improvement as he oversees and mentors his team and manages projects.
Ross is the past president of the International Facility Management Association where he also served on the board for 20 years. Ross serves his local community through his heavy involvement in St. Jude's fundraising efforts. A unique project he works on is building playhouses for St. Jude patients and their families around Tulsa. And with each house they build, the team of volunteers grows as they add new families who want to serve alongside them.
Certifications/Memberships
Certified Facility Manager

Certified Professional Constructor

Green Advantage Certified

International Facility Management Association

Building Owners and Management Association
We have been helping build Oklahoma since 1896
and we look forward to working with you.

TULSA
2200 S. Utica Place, Suite 100
Tulsa, OK 74114
Phone: 918.582.2220
Fax: 918.584.8922
Copyright Cowen Tenant Improvement © 2023. All Rights Reserved. Site Design by D2 Branding